Happy 200th post everyone! It hasn't been easy but the Cat Fancy crew has with this post broken the 200 mark for posts and I'm sure glad that we've kept with it… Aside from the time I quit and the recent decision to take a break from "Classic Album Tuesdays" and "Top Ten Thursdays", which I assure will make a return in the following months. Being that all I have to report today is small pop culture tidbits, I thought it might be keen to compare events (mostly pop culture stuff) at the time of the blog's establishment and what's been cooking these days, what a strange world it's become..

In the News: Politics
Then
: John Edwards had recently withdrew from his candidacy leaving what become a long battle between Barack Obama and Hilary Clinton. On the Republican side Rudy Giuliani had recently withdrew along with notable crazy person Mitt Romney.
Now
: The Democratic and Republican National Conventions recently passed. I hear the RNC had higher ratings, especially when Sarah Palin spoke, though I'm not sure why. Seemed to me to be mostly a lot of bad jokes and attacks on Obama, not saying that the DNC doesn't have similar moments, but it certainly wasn't anything spectacular.
I guess people really seem to relish the fact that she participates in everyday activities, just like the rest of us, and as some folks said on the Daily Show "If she could be vice president, than anyone could." Well that's great, I mean who cares about qualifications when you hunt and fish? It's not like she's the only person in this political race with hobbies and a life outside of politics. People seem to think Obama was born with a silver spoon in his mouth and is just some kind of upscale celebrity, but he basically worked his way to his success like any other hard working person. I mean if anything John McCain's "Mr. Moneybags". He's the one who dumped his first wife to marry the younger Cindy Lou Hensely, chairman to the Anheuser-Busch company, and we've all heard the "He doesn't know how many house he owns" jokes… I could really talk about this stuff all day, so I'll just move on for now.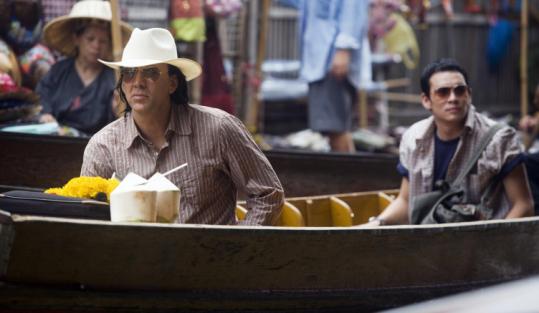 Movies
Then:
Audiences were being treated to such cinematic masterpieces as Bad Boys 2 star Martin Lawrence's Welcome Home Roscoe Jenkins, the limited released The Hottie and the Nottie and yet another film featuring 90 minutes or so of Matthew McConaughey with his shirt off probably known to most as Fool's Good. It was certainly a hard time for movie goers unless you were the type that kept an eye on the indie circuit, In Bruges was the film to see in that case, but February 08, especially the week of the 13th was hard for all of us.
Now:
Early September often appears to be a dumping ground for a lot of flicks that couldn't cut the summer market, that's not always the case, but nothing to thrilling has been released yet. This weekend saw the release of Bangkok Dangerous starring Nicolas Cage as an assassin I guess, but an interesting thing to note is that after this weekend, this film is the biggest box office flop in five years. Yep that's right, not since 2003's Dickie Roberts Former Child Star has a film opened at the top of the box office with such a low gross. Hopefully the box office will pick up with the new Coen brothers flick next week or De Niro and Pacino's upcoming collaboration. October and November look pretty good so far as well for movie releases.

Television
Then:
The Writer's Strike had finally come to an end and America would once again get to enjoy such fine quality programming as Terminator: The Sarah Connor Chronicles and Survivor: Micronesia.
Now:
The Fall season is just around the corner, which is always a nice treat after the dried up summer season. As of right now I'm not sure whether they'll be anything new worth watching, not even "Fringe" whatever that's supposed to be. I'm pretty critical of new shows, so maybe something will surprise me.

Music
Then:
Nothing notable in February, I probably would of still been grooving off of Vampire Weekend's debut album, which still continues to grow on me. I'm not sure if I like it more than My Morning Jacket's Evil Urges, on the subject of music in 2008, but I just might.
Now:
After a relatively hot summer with releases from bands like Coldplay, My Morning Jacket, Beck and other stuff like that. This early September has cooled down a little bit, at least for my musical tastes. I eagerly look forward to Kings of Leon's new album Only By the Night to be released September 23 here in the U.S. Swedish trio Peter, Bjorn and John will as well be releasing their new album "Seaside Rock" on September 23. I haven't heard any cuts yet but I very much enjoyed their last album, so that'll be swell. My favorite foreign language band Dungen will be releasing their fifth album on September 29 titled "4" for some reason. I don't know anyone else who really knows them, but if you like psychedelic stuff it's worth a peak. October, at least for me, will be pretty great with new albums from Oasis, Kaiser Chiefs and Keane, this will be a pretty rockin' fall season.

Video Games:
Then
:I can't much vouch for what had come out then, plus us Cat Fancy guys you know we got classes and stuff at colleges and what not, every time we had the chance we were probably playing Rock band.
Now
: I can't say too much for games as of this moment, but I'm certainly eager to play the upcoming Rock Band 2. I don't play to many other games these days, but I actually think Will Wright's latest venture Spore looks neat. I hear there's supposedly a lot of good games coming out this fall/winter but I'm honestly too lazy to check that out. Perhaps Sean can fill in the readers about that sometime.

Sports:
Then
Eh We were all just chilling, getting ready for Valentines Day. I really can't think of anything sports related to discuss for February. I guess the Giants had beat Goody two-shoes Tom Brady and his precious Pats earlier that month, good for them.
Now
: Aside from some recent highlights such as, Adrian Beltre hitting for the cycle, and the dawn of Brandon Morrow, the Mariners ran out steam long ago and are now just trying to take it one day at a time.
In the world of football, the Seahawks blew their opening game against the Buffalo Bills, who finished 7-9 last year, but with Running Backs Deion Branch and Bobby Engram out it didn't look good going in. To worsen the situation Nate Burleson was as well injured in the crushing 34-10 Seahawks loss. I really hope this isn't a sign of a bad season, we'll just have to wait and see.
That's about as much as I'll go into for now, nothing here too exciting, I just wanted our 200th post to mean something, something important, Otteni out.