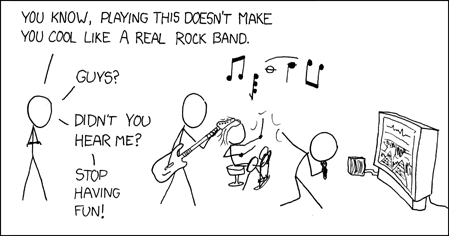 The title's stupid, ignore it. It's that time of the… couple of months… again. That's right, it's time to discuss Rock Band and the music that we all love to play.
We got some boring music this week, most interestingly some Offspring song. But the big news is that we'll be getting more than The Pixies' Doolittle next week, we'll also get a 3-pack from Weezer's Red Album. Those tracks are "Dreamin'," "The Greatest Man That Ever Lived," and "Troublemaker." "Troublemaker" is like perfect for Rock Band, and "TGMTEL" should be a total trip. It's a shame we got "Dreamin'" over "Pork and Beans." Look's like an expensive week!
Now for an update on some of the rumored tracks. It sounds like Who's Next is stuck in limbo, due to missing masters, wuh-oh! A list from OXM hinted that we would be getting more from Sabbath, Maiden and Metallica as well as Bad Company and The Haunted. Three Greatful Dead songs, "Touch of Grey," "Alabama Getaway" and "Uncle John's Band" are supposed to show up at some point.
Several bands have hinted that they have Rock Band tracks coming. Who? The B-52s, Bad Religion, Devo, as well as some other jerks. Offspring says these songs are coming "Come Out And Play [Keep 'Em Separated]," "Self Esteem," "Gone Away," "All I Want," "Pretty Fly (For A White Guy)," and "The Kids Aren't Alright." Also, the song "USS Zydecoldsmobile" by Jimmy Buffet was played in Rock Band at one of his concerts.
MTV2 messed up an released a list of potential songs, including "Aesthetics of Hate" by Machine Head, "Burn" by Nine Inch Nails and "Breed" by Nirvana. Supposedly another Rush pack, or perhaps an album, is in the works.
These are just some of the many rumors sorrounding future DLC for Rock Band. As you can see, we have a lot to look forward to. Making Guitar Hero World Tour that much more difficult a sell. Which is too bad, cause they are doing some really interesting things. You might want to read this article. Most interesting part? "Everlong" by Foo Fighters and "Rebel Yell" by Billy Idol.