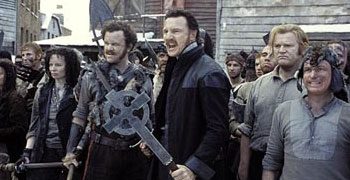 Well it's that time of the year again. The Chicago River is dyed and children everywhere are threatening friends foolish enough to not wear green. I, like many people, found myself wondering, "hey, why is this holiday important? Why do we care so much about leprechauns, the color green and drinking on this particular day?"
Well it turns out that St. Patrick's day is actually an ancient Irish celebration. Did you know that the shamrock is meant to symbolize the holy trinity? You can learn this and more by reading about the holiday on Wikipedia. I did.
I know what you're thinking, "Irish? But I don't live in Boston!" But did you know that there are many famous Irish Americans? Like actors Matt Dillon, Chris Farley and Rita Hayworth. Or the famous gangster Sean Patrick O'Leary (his name is very Irish, it turns out). James Hetfield's Irish, so is tennis superstar John McEnroe and talk show host Conan O'Brien. Even some of the presidents like George Washington and George Bush were Irish. Why, I bet you know a lot of people who are Irish!
So let's all salute these industrious members of our society by watching a couple episodes of Rescue Me, listening to some Dropkick Murphys and throwing back some Guinness (if you're old enough, which most of us aren't).
Everyone's Irish on March 17.