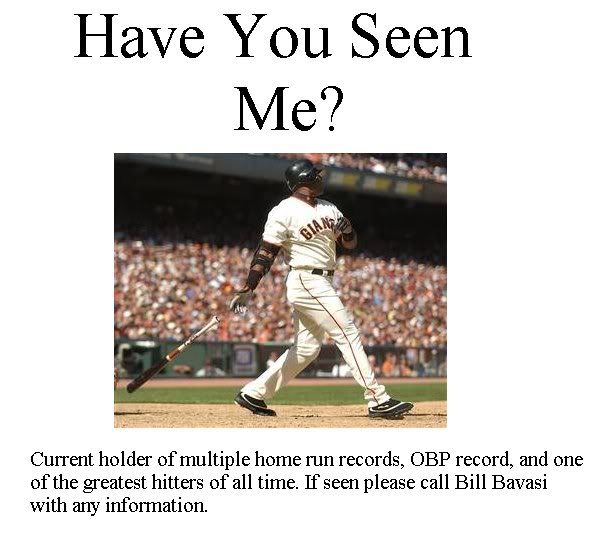 I know most people hate Barry Bonds, and I know this will never happen, but nothing would make me happier than to have Mr. Bonds in a Seattle Mariner uniform. He is one of the greatest hitters of all time and he was definitely not alone in this whole steroids era. The reason I think was so good with enhancement was because he was already such a great hitter. He won 3 MVP's as a skinny guy playing for the Pirates back in the early nineties. Sure hes a jerk, but he can help this sorry sack of crap we call a baseball team a lot.
This team needs to confront some big problems. We went out and solved our pitching situation (hopefully Carlos Silva will make his next start) besides the fact that Bedard has been sidelined for most of the season so far. But our offense is dismal. And by dismal I mean it sucks. Wilkerson, Johjima, Vidro, and even my new favorite player Big Sexy has cooled off as of late. Vidro's career is over. With Jose Lopez dominating the 2 hole, Vidro's lack of power and average needs to be shown the door. He is a black hole sucking up everything a good offense should have and needs to be taken to the back yard and put down.
Wilkerson was a mistake, lets move on. Bring up Balentin or Reed and get something out of right field rather than nothing.
And last but least, Johjima has absolutely stunk. I don't however think his career is over. I think he'll get out of this slump with a little more time. However, I do not agree with extending his contract for another 3 years/27 million. It's time to build for the future, and especially with Jeff Clement down in Tacoma batting .375/.500/.688 (Batting average/on base percentage/slugging percentage). The M's front office obviously has a hard time understanding that with age comes decline in performance. And this is especially true with catchers.
Well I know that this organization will not do take note to any of my suggestions, but I beg them please do something.